2019 Community Contribution Program
The Covenant Health Knoxville Marathon has been a success due to the unbelievable support within the community.  Each year the Covenant Health Knoxville Marathon (CHKM), the premier event of the Knoxville Track Club, sets aside funds for its Community Contribution Program.
In an effort to support the community and to improve lives through healthy programs, the CHKM Advisory Committee accepted proposals for programs seeking funding from the 2019 Community Contribution Program through August 1.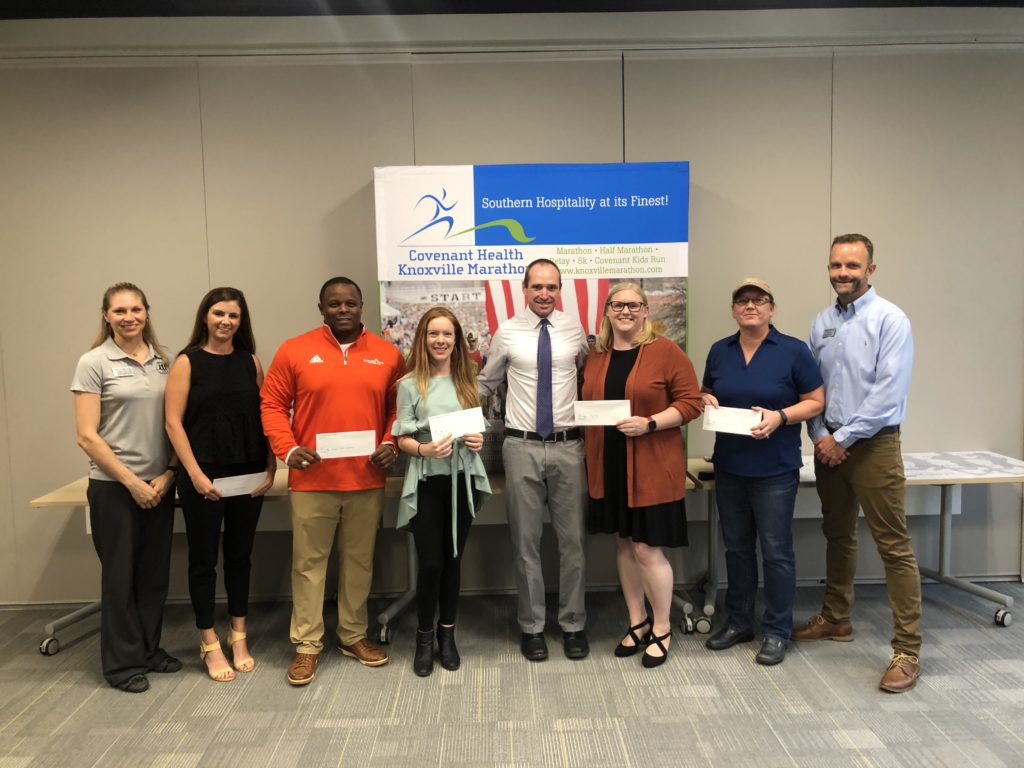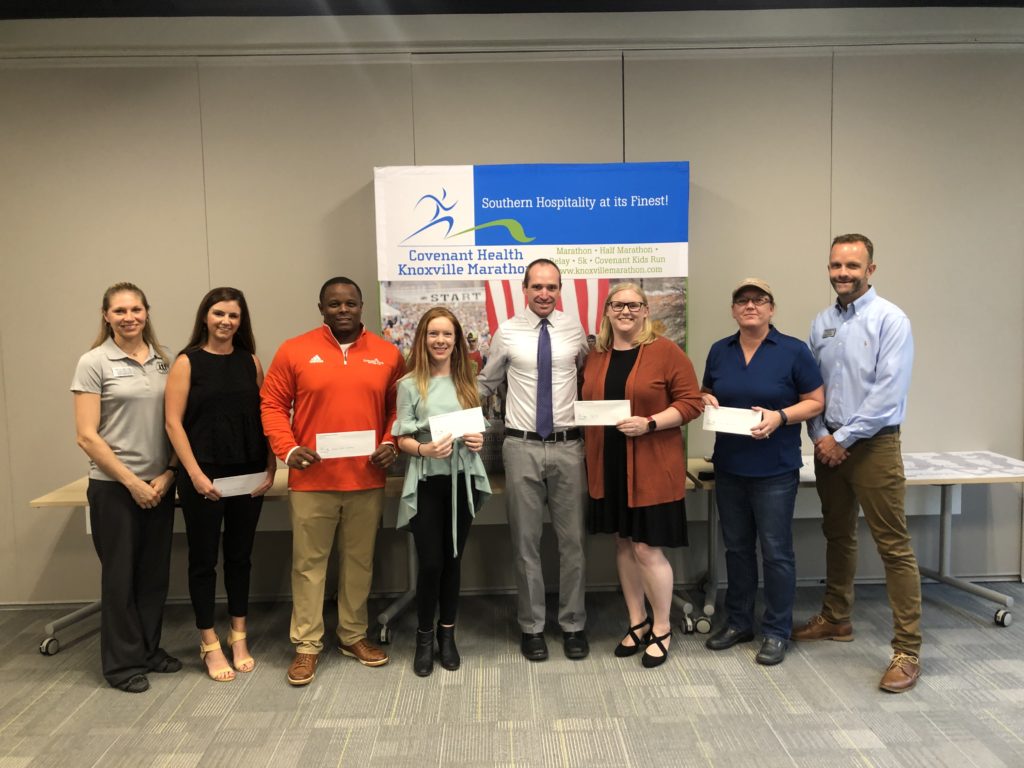 On September 18, 2019, the Covenant Health Knoxville Marathon presented a total of $8,000 in grants to five local organizations to support health living in East Tennessee.
Grant recipients include Emerald Youth Foundation, Family Justice Center, Tennessee Beauty Hunters, YWCA of Knoxville and the Tennessee Valley, and Survivor Fitness Foundation.
"These programs strive to make a lasting impact on the health of our community," said Jason Altman, race director for the Covenant Health Knoxville Marathon. "The grant program is now in its sixth year and awards funds to nonprofits that are positively impacting our region's health and fitness. We look forward to watching the great work of the 2019 grant recipients.
Emerald Youth Foundation received $3,000 for uniforms and supplies for the Emerald Force track program, which encourages participation by youth in track & field and overall physical activity.
Knoxville Family Justice Center received $2,000 to create a central workout facility for the Department of Children's Services, including law enforcement, educators and nonprofit staff who investigate domestic violence. The facility will help foster an environment of collaboration and self-care for the staff.
Tennessee Beauty Hunters received $1,000 to fund workout equipment, including resistance bands, jump ropes and more. The organization provides free, bootcamp-style workouts for women in Knoxville.
The YWCA of Knoxville & the Tennessee Valley received $1,000 for Club W's health and fitness programming, which focuses on the Keys of Hope Women's Program and the Phyllis Wheatley Center. The funding will provide incentives and water bottles for the programs.
Survivor Fitness Foundation received $1,000 for one-on-one training sessions for cancer survivors in Knox County. Survivor Fitness Foundation empowers cancer survivors with tools and training to regain their health and wellness. The foundation also offers one-on-one nutrition and exercise programs for those living with and beyond cancer.
Although 2019 was the sixth year for the Community Contribution Program, the Covenant Health Knoxville Marathon and the Knoxville Track Club have a long-standing history of reinvesting in the community. From 2005 – 2019, $178,000 has been contributed to support projects such as mile markers for local city and county greenways, land acquisition and building trails in South Knoxville's Urban Wilderness, and a golf cart to patrol and clean the greenways. Past recipients include East Tennessee Children's Hospital, Legacy Parks Foundation, Young-Williams Animal Center, Ijams Nature Center, YWCA Knoxville, Knox County Schools, The Muse Knoxville, and Keep Knoxville Beautiful. An additional $43,331 has been given to the Patricia Neal Rehabilitation Center Innovative Recreation Cooperative, which encourages people with disabilities to pursue leisure and sports activities including hand cycling, which is one of the races in the Covenant Health Knoxville Marathon.