Community Contribution Program
Since 2005, KTC has donated over $240,000 to local non-profits through the Covenant Health Knoxville Marathon's community contribution program.
2020 Community Contribution Program (recipients pictured below)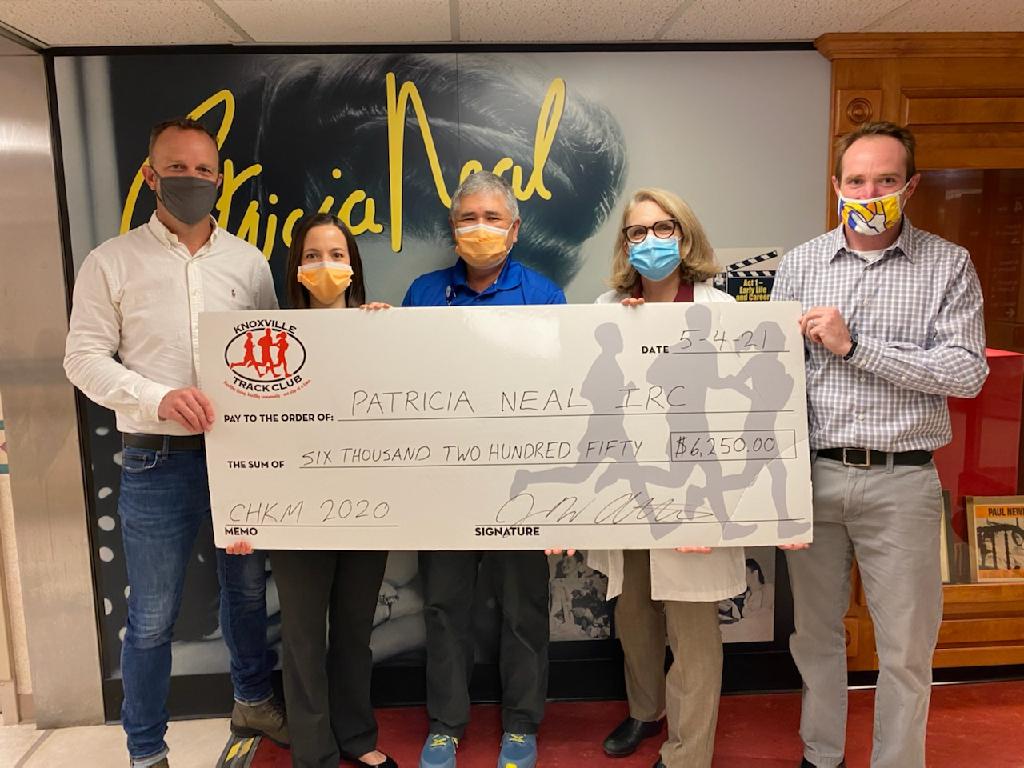 On May 5, 2021, we presented Patricia Neal Rehabilitation Center with a check for $6,250 for their Innovative Recreation Cooperative (IRC) program. The Patricia Neal IRC reflects its name in its philosophy. Innovation is new and creative ways in which individuals with a disability are able to participate. Recreation is the medium that is used to enhance the education and awareness of the participants. Cooperative is the group of individuals who support, nurture, and mentor using their expertise and talents to make the clinic a success. Together, each clinic is an innovative form of recreation using a cooperative of talents. Their goal is to remove all the barriers to develop each individual's right to self-directed leisure for a healthier lifestyle.
Pictured left to right: David Black, KTC Executive Director; Christy Williams, Director of Therapies for PNRC; Al Kaye, Patricia Neal IRC Program Coordinator; Dr. Mary Dillon, Medical Director of PNRC; Jason Altman, CHKM Race Director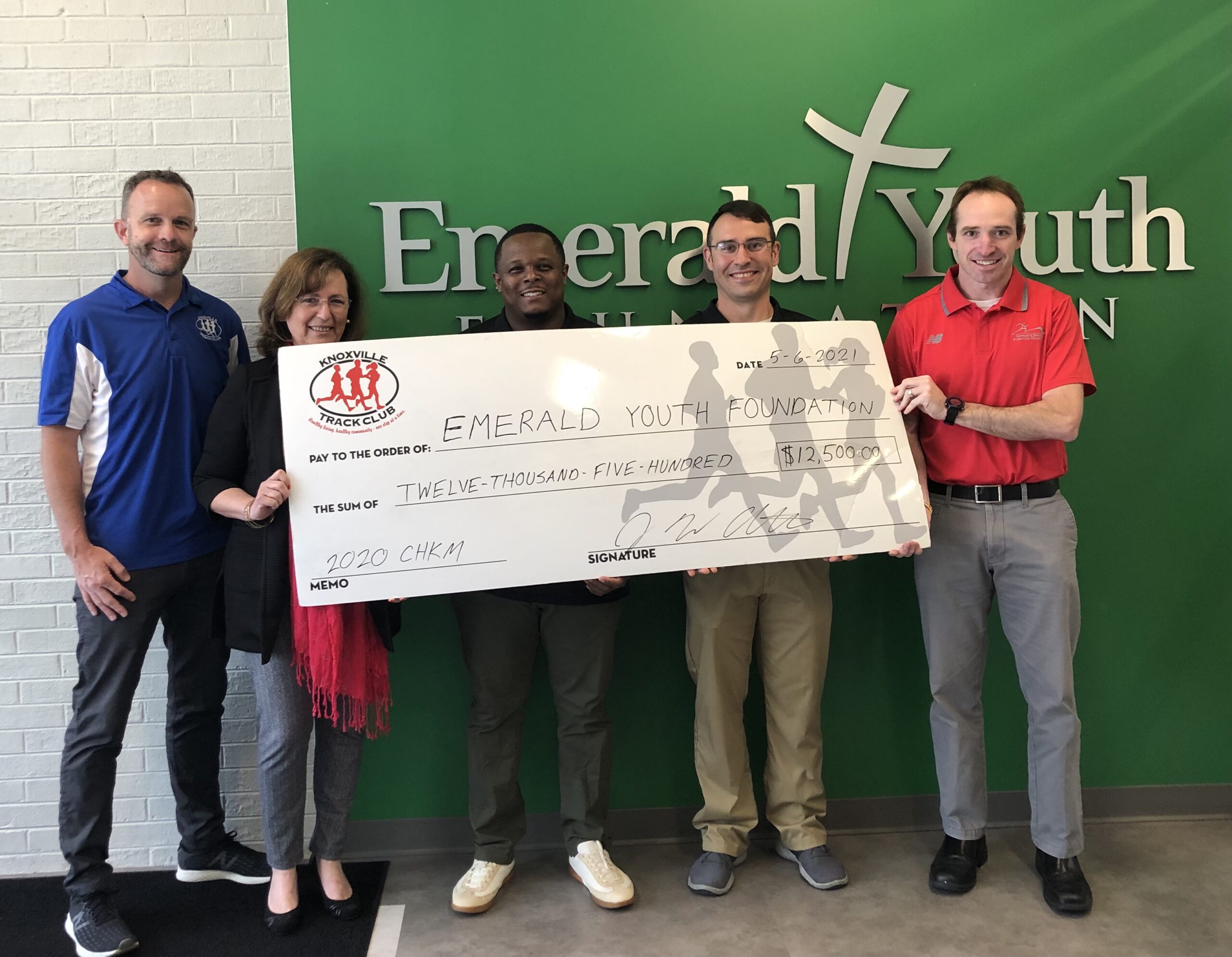 On May 7, 2021, we presented Emerald Youth Foundation with a check for $12,500 toward their Emerald Force Track Program. This is the only urban youth-serving track program in Knoxville.
Emerald Youth Foundation endeavors to help young people become involved in a faith community, as well as provide service to others; graduate with the skills needed for college, career, and life; be better connected with friends, family, and other adults living inside and outside their neighborhoods; and reduce risky behaviors and develop healthy habits.

Pictured left to right: David Black, KTC Executive Director; Maria Panizo, EYF Grants & Foundations Director; Sanford Miller, EYF Director of Sports Ministry & FCA Urban Outreach; Britton Leitch, EYF Performance Training Director; Jason Altman, CHKM Race Director
Although 2020 was the seventh year for the Community Contribution Program, the Covenant Health Knoxville Marathon and the Knoxville Track Club have a long-standing history of reinvesting in the community. From 2005 – 2020, $190,500 has been contributed to support projects such as mile markers for local city and county greenways, land acquisition and building trails in South Knoxville's Urban Wilderness, and a golf cart to patrol and clean the greenways. Past recipients include East Tennessee Children's Hospital, Legacy Parks Foundation, Young-Williams Animal Center, Ijams Nature Center, YWCA of Knoxville and the Tennessee Valley, Knox County Schools, The Muse Knoxville, Knoxville Family Justice Center, Survivor Fitness Foundation, Tennessee Beauty Hunters, and Keep Knoxville Beautiful. An additional $49,581 has been given to the Patricia Neal Rehabilitation Center Innovative Recreation Cooperative, which encourages people with disabilities to pursue leisure and sports activities including hand cycling, which is one of the races in the Covenant Health Knoxville Marathon.
In addition to our Community Contribution Program, we are proud to partner with the following charities for the Covenant Health Knoxville Marathon.