Marathon
The Marathon course is a 26.2 mile journey through scenic Knoxville, TN.  The course has been designed to show-off Knoxville and run through several of its fine neighborhoods.
INFORMATION BOOKLET FOR ALL PARTICIPANTS FOR RACE WEEKEND!
View our information booklet for race weekend here.
2019 turn-by-turn course description: Click here to view
2019 course map: Click here to view
2019 Course profile: Click here to view
NOTE: Courses are subject to slight modification.
Road Closures – For a list of road closures, click here
Race Start
7:30 a.m. on Sunday, March 31, 2019
Certification
2019 USATF Certified – Certification #TN19006MS
Course is a Boston Marathon qualifier.
Amenities
All Marathon participants will receive a top quality technical t-shirt and goody bag upon packet pickup at the Health & Fitness Expo on Saturday, March 30. NOTE: This is mandatory packet pickup; there is NO RACE DAY PACKET PICKUP.
At the finish line marathon finishers will receive a finishers' medal, finishers' jacket (pictured below!), and refreshments at the Pilot Flying J Post-Race Party.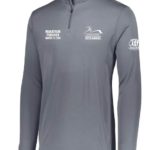 Refreshments During and After the Race
The marathon course will feature 18 runner refreshment stations. Each station will feature Powerade and Mountain Valley Spring Water. There will also be four gel station serving GU (flavors: Vanilla Bean, Chocolate Outrage, and Tri-Berry) at approximately the 6.3, 16, 21 and 23 mile marks.
After finishing, be sure and join us at the Pilot Flying J Post-Race Party on the Festival Lawn at World's Fair Park!
Music!
On Sunday March 31st, Dave Landeo & The Sol Beats will perform on the stage! Dave and Knoxville musicians Joe Thompson (sax), Michael Hulsey (trumpet), Vic Ilagan (drums) & Vince Ilagan (bass) will be performing on stage at the Festival Lawn at the World's Fair Park from 9 am to 1 pm. The band performs a mixture of dance tunes, high energy rock, and soul pop covers and originals. It'll be a big after-race celebration for all the runners, family & friends. Free and Open to the Public.
Beer!
At this year's event, Calhoun's Restaurant will be serving up beer from their world famous microbrewery, Smoky Mountain Brewery! They will serve beer on Saturday after the 5K (7 pm – 9:30 pm) and again on Sunday (10 am – 3 pm). Each registered participant, 21 and older, will receive a ticket for one complimentary beer. Calhoun's will also be selling beer for family members, spectators, or participants wanting a second beer. (Participants under the age of 21 will not receive a beer ticket).
Food Trucks!
We have arranged for Food Trucks to join us on both Saturday, March 30, and Sunday, March 31, including three of Knoxville's favorites – Forks on the Road, Penne For Your Thoughts, and CJ's Tacos! They'll be selling food to spectators, family members, or participants who are looking for more than the provided post-race food that comes with your entry.
You will not want to miss this year's post-race celebration!
Live Music
We will have 30 great musical acts lined-up all over the course! Dante Music Entertainment has recruited and coordinated live musical acts that will give you a feel for locally grown music and they'll keep you moving. Click here to view the 2019 bands and their locations.  In addition, we'll have Party Boys DJ Show at the start line, the finish line, and a special place along the course.
Restrictions
Marathon participants must be 18 years of age or older.  Marathon participants must be able to complete the course, whether running or walking, in 7 hours.  The course will be rolled-up in a 16 minute/mile pace.  The finish line will remain open for 7 hours. There is no separate start time for walkers. 
Timing
We will use a chip timing system for the marathon. The chip time will generate a net time for you personally in addition to your gun time. (NOTE: Awards are based off of gun time.)
Portable Toilets
On course, we will have plenty of portable toilets. They will be near (but not right next to) every water station. There will be 5 at each of the first 6 water stations, 4 at each of the next 9 water stations, and 2 at each of the remaining 3 water stations on course. There will also be plenty available at the start, both on the concourse in front of the Knoxville Convention Center and on the plaza terrace level of the KCC.
Medical Support
Plenty of medical support will be available throughout the course, at the finish line, and at the Pilot Flying J Post Race Party. Mobile medical support units manned by the Knoxville Fire Department will be positioned every couple of miles along the course. There will be a first aid area after the finish line.  In addition, a therapy team provided by Covenant Therapy Centers will be available at the Pilot Flying J Post Race Party.
Post Race Injury Clinics
Covenant Therapy Centers is proud to offer FREE Post Race Injury Clinics! If you have aches and pains after the race, be sure and be checked out by a Covenant Therapy Center sports injury professional. Click here for more information.
Event Alert System
Teams
All runners have the ability to participate as a team and be eligible for special team awards and prizes. Note, there is also a 4-Person Relay, which you can read about on the Relay Page. The Marathon team competition is where each member of the team completes the entire course. You may have as many people as you'd like on your team.  For special team awards, only the top 3 participants on your team will score – their times will be combined for a team time (ALL participants are also timed individually and eligible for all individual awards and prizes.)  There will be team categories for male only, female only, and co-ed teams.
Teams can be any groups of people who want to add this designation (for free!) to their registration. Encourage others you know to join you in the race…coworkers, classmates, family, military, friends, etc. are all great ideas for teams. If you register as a team with coworkers, your team can also win the "Fittest Company" competition – determined by which company's employees complete the most combined miles on race day.
Pace Teams
We are organizing pace teams to help get you to the finish line.  We will have pace teams led by experienced runners for time increments ranging from 3 hours to 6 hours. Please stop by the Pace Teams booth at the Expo for additional information.